Start Your WordPress Blog in Right Way With These Simple Steps
Are you planning to start a WordPress blog in the right way? Starting a blog site can be terrifying if you do not follow proper steps. So here I am to guide you to start a WordPress blog without any technical knowledge. The process is very easy. Read this article and follow the process I am talking about.
Things that you need to start a WordPress blog website:
A domain name (this will be the name of your blog website i.e www.mastermindhacks.com)
A web hosting (this is where your website live on the internet)
Your attention for 20 to 30 minutes.
Yes, you read it right. You can start a blog website from scratch within 20-30 minutes, and Now I am telling the whole process, step by step.
In this article, I will cover:
How to Register a Domain Name
How to Choose the Best Web Hosting
How to Install and Setup WordPress Blog
How to Change Your Blog Design Template
How to Write Your First Blog Post
How to Add Essential Pages
Ready? Let's get started.
Register a Domain Name
First of all, you need to register a new domain name for your blog. First, you stick with a certain blog niche and find out your blog name relating to your website niche. Try to avoid name which is not reflecting your website niche or something that is confusing.
After selecting a name for your blog, register your .com domain from any famous domain provider. It cost around something between 4.99 – 14.99 USD per year.
I mentioned the .com domain because it is the most famous and established domain extension. Try to avoid other domain extensions though .net, .org better alternatives.
Never go for the free domain offer. Either free domain contains other less popular extensions or subdomains. It hampers your brand identity and viewers may not be interested in visiting your site.
Pro Tip: Try to register a domain name that is easy to remember rather than complex names or confusing spelling. It helps viewers to remember the name and they will return your website further.
Choose the Best Web Hosting
After purchasing a domain, you need to buy a hosting to live your website. There are many established hosting provider. They provide many hosting plans and offer.  This is very confusing though. But you don't need to get confused to choose the proper hosting. Buy any shared hosting for at least one year from a reputed hosting provider. Host your blog in that hosting and generate traffic gradually. After generating enough traffic you may switch to more powerful hosting.
Hosting may cost you around 1.00 to 3.99 USD per month.
Pro Tip: Don't spend much on powerful hosting at first. Start your blog in normal shared hosting which is more than enough for a new blog website. It saves money. You may later upgrade your hosting based on your generated traffic/visitor. 
Install and Setup WordPress Blog
Nowadays almost all hosting providers offer web hosting plans for WordPress. In these plans, they will automatically install WordPress for you. All you need to buy this plan and start using WordPress right from purchase.
You can also login to WordPress by simply going to yoursite.com/wp-admin/ directly from your browser.
But don't worry, if your hosting provider doesn't offer any plan for WordPress. You can install WordPress within a few minutes. First, buy any shared hosting then you can see our comprehensive guide on how to install WordPress for step by step instructions.
Once WordPress is set up, you're ready to customize your blog's appearance to make it your own and start blogging.
Change Your Blog Design Template
The visual appearance or look of your WordPress blog website is controlled by themes and plugins. When you first visit your blog after installing WordPress, it will look something like this:
To be honest, this is not very appealing to most people.
Customizing the look and feel of your blog is by far one of the most exciting and rewarding parts of the journey of creating your WordPress blog.
There are thousands of pre-made WordPress themes that you can install on your site. Some of them are free themes, while others are paid.
You can change your theme by going to your WordPress dashboard and clicking on Appearance » Themes.
Go ahead and click on the Add New button.
On the next screen, you will able to search from 8,400+ free WordPress themes that are available in the official WordPress.org themes directory. You can sort by popular, latest, featured, as well as other feature filters (i.e industry, layout, etc).
You can take your mouse over to a theme, and you will see a Preview button. Clicking on it will open the theme preview where you can see how the design would look on your website.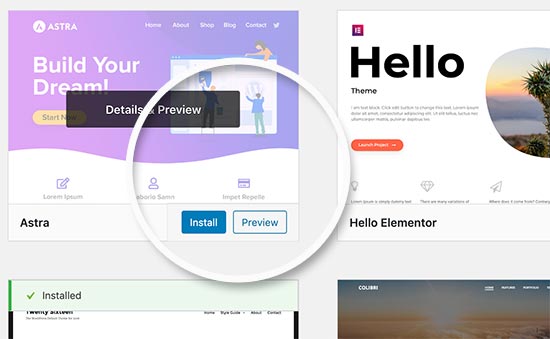 The preview of your theme may not look exactly as shown in the screenshot, which is normal as you will get to customize and set it up later. What you need to look for is design, colors, typography, and other elements.
The best tip to select the perfect WordPress theme is to strive for simplicity in design. It helps you keep things clean and clear while offering a good experience to your users.
When you have found the theme that you like, simply bring your mouse on it, and it will show the Install button. Click on it and wait for the theme to be installed. After that, the install button will be replaced with an Activate button. You need to click on it to Activate the theme.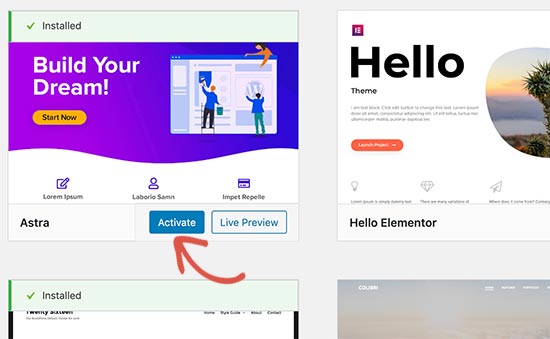 Once you have installed your theme, you can customize it by clicking on the Customize link under the Appearance menu.
If you need help selecting a theme, then please refer to our guide on 9 things you should consider when selecting a perfect WordPress theme.
Once you have selected your WordPress theme, you are now ready to create your first blog post.
Write Your First Blog Post
o write a blog post, click on the Posts » Add New menu in your WordPress dashboard.
You will see an editor area where you can write your first blog post.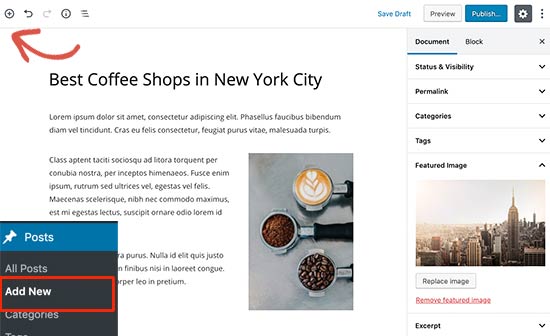 WordPress uses a block-based editor where each element is a block. This allows you to create beautiful content layouts for your blog posts.
To familiarize yourself with the editor, see our WordPress block editor tutorial.
Once you're done writing, go ahead and click on the Publish button on the top-right corner of the screen to make your blog post publicly available.
On the posts screen, you will notice several other sections such as Categories and Tags. You can use these to organize your blog posts into sections. We have a great writeup on the difference between categories vs tags, which we highly recommend that you read.
To utilize all the features on the posts screen, you should read our article on how to add a new post in WordPress (video included).
Often beginners are confused between posts and pages menu in the WordPress dashboard. That's why we have also written a complete guide on the difference between posts vs pages in WordPress.
Add Essential Pages